Season 1, Episode 19
Journey From Transparency To Authenticity
"Brands are not there forever. . . you either have to adapt or get destroyed." – John Vuong
Join John Vuong and Lyle Leads as they discuss John's start into his SEO company and how authenticity helped him grow.
In this episode you'll discover:
How to get started when you don't really know much
How to get your customers as you grow
How to stick to it when times get tough
LISTEN TO PODCAST EPISODE 19 NOW
WATCH Podcast Episode VIDEO
What Actually Is SEO?
In this special bonus training video we discuss the ins and outs of SEO, what it is, and how you can benefit from using SEO.
Bonus Business Training
Transcript Of The Main Podcast
Lyle: Hey, this is Lyle with Optimize Profitability podcast today, I'm here with John Vuong. He's an expert out of Toronto, Canada, real near there. He's also a father of a five year old. So, you know, he's got to know what is going on. He loves building a team and the process of solving problems, something he just enjoys. And I'm looking forward to hearing a story. So, John, tell us your story.
John: Thanks a lot, Lyle for the intro. I started this company seven years ago. It's called Local SEO Search. I guess back where my parents had me, they left the Vietnam War and we resided in Toronto, Canada. We are in the outskirts about an hour away. And I was the fourth child of immigrant families and they sacrificed everything. They liquidated all their assets, left the war. And basically we started from scratch.
They didn't have a lot of support. We didn't have family, didn't have a lot of people surrounding ourselves, and they didn't even know the language. So for us, it was like we had to get ourselves in order. We had to figure things out. And one thing that reminded me when I grew up was every night we actually had dinner together. That was the mandatory thing. We always had to be there for five o'clock, support each other, eat together, and every day was more chores.
There was a lot of family gatherings, but we didn't travel. We didn't do stuff that I do today because we didn't have the luxury of choice. But at that time it was all family. So our siblings were together. I started my first job as a newspaper delivery boy, and at that time it was me doing it. Because I wanted to help out with the family, with groceries, milk and bread, and food, and what not. I was always working.
All through high school I probably had like 30 plus jobs from factory work to McDonald's, to landscapers, to odd jobs, restaurant, you name it. I've done it all. And then I started school in business finance, got my degree, and then when the real work was happening, I got my first job, and my career started in advertising sales. I did that for about ten years. And that's where I found where I really enjoyed what I was doing, where I really connected with people, not just the culture of businesses, but I was able to meet a lot of business owners and understood why they were doing certain things, take care of their customers, understand their value prop, understand that community means everything.
You know, they had a really good lifestyle, right? They took care of their base, but they also had a strong foundation of family. Community, could be religion. It could be relationships, it could be friends, hobbies, activities. But it was a really good balance. And so my last couple of years before I started this company was I worked at YellowPages, and I was there for five years, I met thousands of local business owners.
It was fun at that time. But it was a challenge because, as you know, Google kind of replaced and wiped out the whole industry. And it basically made me understand that brands, companies, are not there forever, even though they've been there for over one hundred years, like YellowPages.There was a shift. There was a behavioral technology shift. And I just either had to adapt to it, or get destroyed.
While at YellowPages, all these business owners were letting me know that they were spending more than ever, and the return on investment was lower and they were frustrated, but they didn't know where to go, who to turn to. So that's where I wanted to jump in and help them. I actually was letting them know that, look, if I started something, whatever it was, would you be interested? 
So that's how I shifted. I didn't know anything about SEO. I didn't know what and how to do it. I didn't come from a technical background. I was a sales rep. I was out there just meeting a lot of people, business owners, and I wanted to help. I solve the problem and they were willing to pay for it. So I just had to go out there and deliver on the promise. So then came me trying to figure it out. So that's the journey of how I started this company.
Lyle: Awesome, and what was the first steps you took to start figuring it out, because I know you're saying you're shifting, but what had to shift? Was it a mindset shift, was it an attitude, or just action?
John: So it was, I think, everything, for me from being like, I guess at YellowPages allowed me a lot of flexibility.  I was already working from home. They gave me a book of business, and I just had to deliver a higher retention rate and upsell, and reduce the amount of loss. So it was a really good base for me, a foundation. But when it's on your own, you have to acquire new customers and figure out the entire process of sales, operations, deliverables and then service. And accountability. There's so many other things that's on top of your mind, especially when you don't even know what you're doing at the beginning, 
Like running a business it's different than selling a product to a company that already has the fulfillment in order. The whole process and system has already been implemented properly. So then you have to develop it yourself. And especially for SEO, I didn't even know what I didn't know. And it was a lot longer in terms of curve, a learning curve, a lot of mistakes I made. I hired a lot of the wrong people.
The good thing was I was a sales rep, so I went out there and sold it. That was the one thing that I feel as a business owner you need that art of sales or art of passion, .the art of making sure you have customers.  No customers, no business. No revenue, no business.
I was out there and my first customer gave me six months, so a couple of thousand dollars. I was on the race, right. First couple of months I started selling more. I then had to figure out now what I need to do to make sure that whatever I sold, that's what they paid for. Then I started hiring people. I made a lot of mistakes. I learned a lot. I was reading a lot of blogs, watching a lot of videos, trying to figure it out, and hired wrong people and kept hiring, firing, hired, lots of mistakes.  So the first couple of years were very stressful. A lot of sleepless nights working 16-18 hours. This is before my son was born. 
Lyle: That's good. 
John: Yes! It allowed me to actually put a lot of effort into a business. And even before that, one thing I do recall very strongly was having  my wife for support, because without support and foundation…, I was at a stage where I could either continue working in sales, looking at another company….And I just got married. I bought a place with my wife and she gave me the flexibility saying, look, you do it now. If you're going to do it, have fun, enjoy it. But I want you to grow. Like, as much as I'm going to support you, eventually, you need to support yourself.
That's where I feel like just that foundation of having someone along your side, being a big advocate of yours, allowed me to pursue something that I was passionate about. And so that allowed me to have confidence in what I was doing, even though at the beginning I had no clue what I was doing. To be honest, I didn't come from an SEO background to know what needed to be done. So over the years, I started growing the team.
I started getting more clients that were more my type of tribe, because at the beginning I was picking anyone. And as you know, as a business owner, you don't want to take everyone on. You just want to take the ones that you know would be of value and you can help them. And they are aligned with your values as well. Over the years, I refined that I got better and now we're cultivating good customers that we actually care about that we want to help.
As much as they inbound they, they send our request wanting to work with us, we say no more than yes. And that's where, you know you're in a good space.  Because you're having fun as well. And you know where you fit in the grand scheme of things. 
Lyle: Tell us a little bit more about your sales process, especially when you first got started. Because a lot of people that we talked to think sales is scary because you want to help a customer, but you also have to charge a customer. So you've got that balance because you said multiple times that you care about these people. And I agree. You got to care about people who are in your business. What's your sales process look like for the caring side of it?
John: Yeah, so at the beginning, I was taking clients on not knowing the deliverables and how long it took, the accountability. I made a lot of mistakes and I was authentic with them, I was transparent with them because of my price point, and people took that price point knowing that risk. But as you progress and you get better case studies and more testimonials and better track record.  You're able to charge a different rate because then you have systems and processes in place as well as a track record.
So right now, this whole sales process, more when people fill out a form or call in, we have onboarding questions. We have vetting process. And then we actually do a probe question as well to see where they're at in their business cycle. What are the challenges? What have they done? How much are they comfortable spending? What is their threshold? What is the revenue like? Why do they need SEO ultimately? Because if people think it's going to be their holy grail, they're in it for the wrong reasons.
It's not going to transform a business. What we are all about is being true to them and letting them know we help good businesses become great businesses. But they have to understand how to run a good business. We cannot fix their problems if we cannot figure out how they can service them better, understand their product when they don't even know it better than ourselves. Like they have to already have a really strong foundation. So understanding is our core.
Then the process is like learning, asking questions, learning, making mistakes, asking more questions, adding more value, making more mistakes, you know, in just figuring it out. Because that's the whole evolution of the business. If you know it inside out at the beginning, then you're not in a good business. Because there's always something that you can get better at, either by the people, the software, the system, the clients, the whole process. Like this whole SEO world is complex. So it allows us to stay on top of what's going on. It challenges us a lot. And that's why it's fun for me and the team because we're always trying to evolve and get better.
Lyle: What are the things you're doing right now that's winning in your personal business that might help somebody else?
John: So personally, I feel like having time to reflect and really understand why you're doing things your way or the right way, or you may think it's the right way or not the right way and slowing down, even though everyone wants to scale.  Everyone thinks money is the savior of everything. 
Really understand what you have and be grateful for it where the gaps are and try to systemize so that you can increase efficiency and productivity. Don't try to overdo things all the time. And that's where I felt like I was kind of racing at the beginning. Now I'm jogging or walking and it's OK, right? Because I'm ultimately grateful for the journeys thus far.
People want to scale. They want to 10x everything because social media says you can make ten thousand, one hundred thousand a month.  That's why they're selling a course, but are they really doing it, like have they ever done it themselves?
If they have, you know how long it took. They don't tell you how long it took, how many years of failures, how many years of experience someone's had ever gotten before they became successes overnight. Success was 20 years in the making.
OK, so all of these are things I've kind of learned and I am so grateful for the clients, the staff that I have just the process, the learnings, just because of this during a pandemic, you have to really reflect and be present and understand what you have, as opposed to what you don't have, because ultimately you have your health, you have your family, you have people, you have a business, things that you can be very proud of. This should support your lifestyle. So just slow down. 
Lyle: That's a great word. I'd appreciate that word. We're moving into Thanksgiving here in America. And so the idea is to pause and give thanks for what's going on in life. And that's I think is missed.  A skill that people quit developing to get on social media and you compare so much that you miss the opportunity of just comparing to where you were a year ago or two years ago.
So what's one tip you can give somebody if they don't understand sales. I want to reflect, but I feel so busy, I just can't stop and reflect. I don't know what that looks like. What's a tip you give them?
John: Stress is a big thing for a lot of people. They put so much pressure on themselves. As an entrepreneur, I did it as well. I was very frustrated. I thought we could do way better. We can make more. But why? Why are you chasing? So now that I'm slowing down and less stress, I'm very grateful and living presently. But at the beginning it was all about how do I replace my income? If you had a job, full time job, and you want to make sure that lifestyle exists.
It might not happen right away, and if it did, you're one percent of all the entrepreneurs out there, so give it time, maybe do a side hustle, learn the process, learn skills that you don't currently have.  And there's so many communities out there to learn, watch videos, listen to podcasts, but take action. So one thing I always say is always learn. Try to continue evolving. I read a lot. I listen to a podcast. I watch a lot. I'm a part of a lot of communities.
I'm always trying to get advice from people that I look up to. But I'm a continuous learner because that's a part of entrepreneurship. If you stagnate and you feel like you're at the top and you know everything, you shouldn't be in business, right? Go make mistakes, go do something. I would say take action as the number one thing, like just go and do something.  You know, nothing.
Lyle: I would add to that is be aware of the shiny object syndrome and go in 12 different directions. Pick one.  If you do social media, pick one social media, not one hundred and get good at that. Put it into action. That's so important.
So we're going to end this conversation. I want to ask you for one more quick tidbit of wisdom before we leave, and I want to invite everybody. If you're listening in on us or you're watching this online, I want to invite you to the rest of the conversation. We'll talk about SEO. We've talked a lot about it. That's the business that I do as well. And we'll talk about what that looks like. What is the SEO? How does it work? How do you make it happen for your business?
It's a marathon. It's not a sprint. I want to tell you that before you even go to this next section. But we'll have a quick conversation about that. 
If you want to dig a little bit more about what SEO is from two people who are in the field, we're going to a great conversation. What's your last little bit of wisdom you leave us with?
John: Just enjoy life. Just be grateful.
I mean, I'm very fortunate to be doing something I love. And, you know, when you are waking up wanting to do something, adding value of helping others.That's where you're in a good stage in your life. It's a journey like you mentioned, don't rush it.
There's going to be a lot of hiccups. It's never this incline. It's always the peaks and valleys. So you have to endure those stressful moments in the high and low times. But just be ultimately grateful for what you have. Just slow down. Just love every moment that you have on Earth and be very grateful for what you have.
Lyle: Great. Those are good words. I sure appreciate you, John. We'll see you guys on the next session on our bonus session with John Vuong. Thanks for being with us.
John: Thank you, Lyle.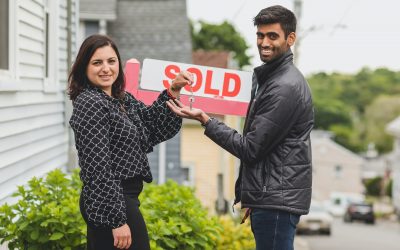 Real Estate Investment Shorts Real Estate Investing Terms: Buyer's MarketDownload the 22 words you need to know for real estate investingWhat you need to know about AMORTIZATIONToday's word is buyer's market. A buyer's market means a great time to negotiate prices....
read more
Real Estate Investment Shorts Real Estate Investing Terms: Seller's MarketDownload the 22 words you need to know for real estate investingWhat you need to know about AMORTIZATIONToday's word is seller's market. Seller's market means the sellers are dictating how high...
read more