Optimize Life – Optimize Business – Optimize Profitability Podcast
Optimize Profitability Podcast is designed for business owners and entrepreneurs who want to optimize their life and their business. Join the entrepreneur journey as we share the ups and downs of being in business. Listen in for business tips and actionable items you can do this week to optimize your business.  These 20 minute segments will highlight topics like marketing, media, life hacks, business skills, business tools and tips.
Optimize Profitability Podcast is proudly created, distributed and produced by DFW TOP, LLC.
Click here if you'd like to be featured on our podcast.
 Listen on Anchor
iTunes
 Google Podcast
 Radio Republic
 Stitcher
 Spotify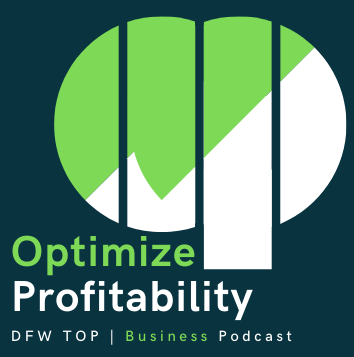 [st_row][st_column][st_text id_wrapper="text_472fc8ab9ec8bb4a3cd9bb4e23656f45" ]Learning To Take Action Before Perfection In today's business podcast, we hear from Lenny Richardson. He's in the marketing landscape and he's a real estate agent, and decided to start a...