Optimize Profitability Podcast
The Podcast Designed To Help You Win at Life and Business
Our goal is simple, to HELP YOU WIN. . .Win in LIFE…Win in Business!
It's a pretty simple concept: if you want to optimize profitability, you must learn to optimize your life and optimize your business.
Optimize Profitability Podcast is designed for YOU, the Entrepreneur, the Business Owner, the Real Estate Investor, or just the Individual who is ready to take action on their DREAMS.
Listen in or watch the videos of amazing journies from entrepreneurs just like you.  They share the ups and downs of being in business and provide valuable business tips and actionable items you can do this week to optimize your life and your business. 
Our podcasts are 20 minutes or less so you can keep striving for your goals.  We highlight topics like marketing, social media, productivity, business tools and training tips.
And. . .we have some powerful bonus trainings with many of our episodes, so stay tuned to our DFW TOP Facebook for those announcements and lots of extras.
Optimize Profitability Podcast is proudly created, distributed and produced by the winning team at DFW TOP, LLC.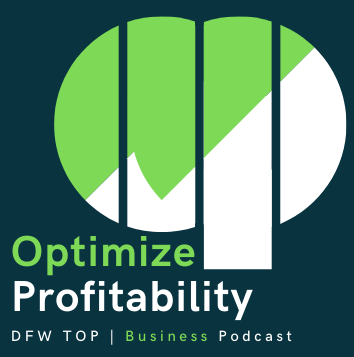 In this podcast episode, Lyle and Shondell discuss the journey from employee to employer and how you must shift your mindset to continue success.
read more